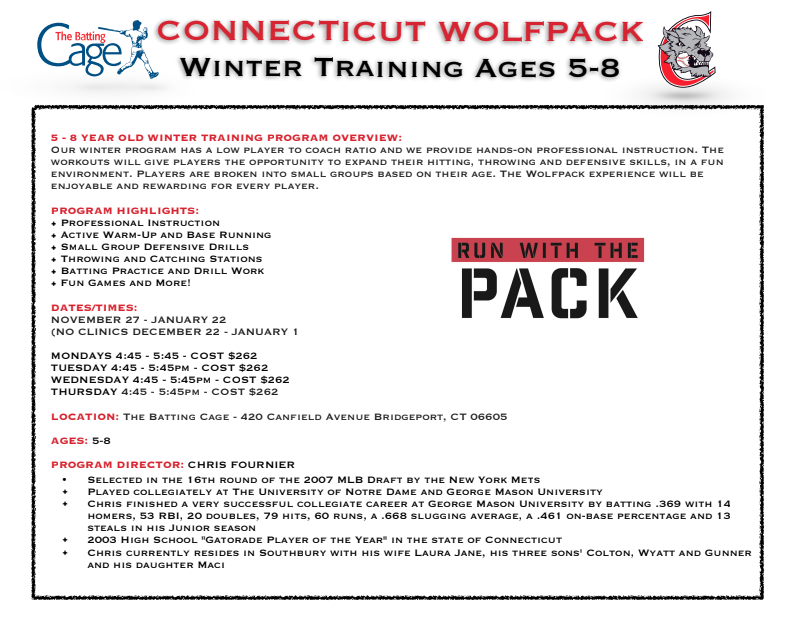 5 - 8 YEAR OLD WINTER TRAINING PROGRAM OVERVIEW:
Our winter program has a low player-to-coach ratio and we provide hands-on professional instruction. The workouts will give players the opportunity to expand their hitting, throwing, and defensive skills, in a fun environment. Players are broken into small groups based on their age. The Wolfpack experience will be enjoyable and rewarding for every player.
PROGRAM HIGHLIGHTS:
 Professional Instruction

 Active Warm-Up and Base Running

 Small Group Defensive Drills

 Throwing and Catching Stations

 Batting Practice and Drill Work


 Fun Games and More!
DATES/TIMES:
NOVEMBER 27 - JANUARY 22
(NO CLINICS DECEMBER 22 - JANUARY 1
MONDAYS 4:45 - 5:45 - COST $262.00
TUESDAY 4:45 - 5:45pm - COST $262.00
WEDNESDAY 4:45 - 5:45pm - COST $262.00
THURSDAY 4:45 - 5:45pm - COST $262.00

PROGRAM DIRECTOR: CHRIS FOURNIER
 

Selected in the 16th round of the 2007 MLB Draft by the New York Mets

 Played collegiately at The University of Notre Dame and George Mason University

 Chris finished a very successful collegiate career at George Mason University by batting .369 with 14 homers, 53 RBI, 20 doubles, 79 hits, 60 runs, a .668 slugging average, a .461 on-base percentage and 13 steals in his Junior season

 2003 High School "Gatorade Player of the Year" in the state of Connecticut


 Chris currently resides in Southbury with his wife Laura Jane, his three sons' Colton, Wyatt and Gunner and his daughter Maci